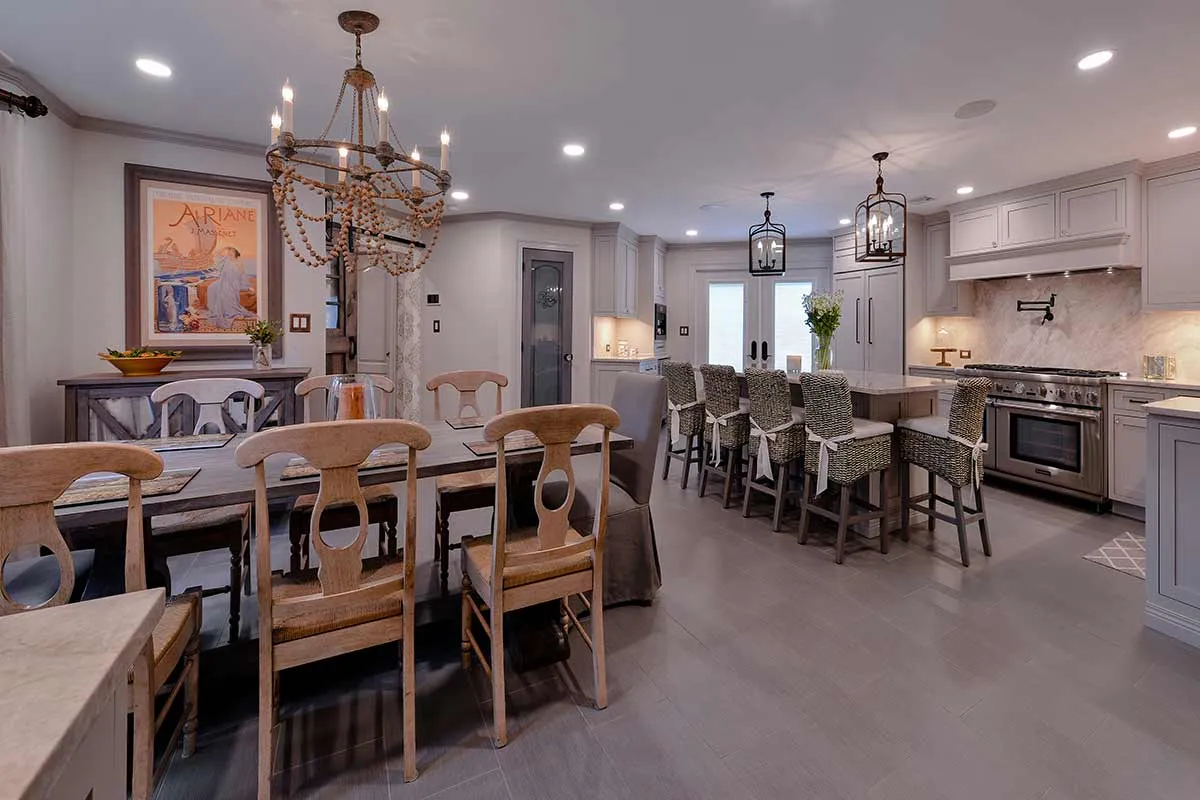 Mary Middlemiss and Nancy LaCalamita, sisters and owners of Twice as Nice Interiors, shared before-and-after details of a recent kitchen renovation from The List Magazine.
Our first step in this project was to figure out how this family of 5 was going to function better. Assessing a kitchen that had no counter space for the family to sit at was a problem; and sitting at the round table, which was pushed up against the back entrance door, was another issue in itself.
We decided to knock down the wall between the kitchen and dining room because they were not utilizing the dining room often. This would allow us to expand the kitchen and create a large island for the family to gather at.
Once we confirmed the space, we began the design process board. Here, we finalized the kitchen layout: how it was going to function, the color scheme, and the materials.
Our concept was chic farmhouse, which is just a touch more polished than the typical farmhouse look. The cabinetry is smooth shaker door in a custom color topped with a taupe quartz. We used a soft neutral pallet of taupe and flax and added pop with touches of copper, reclaimed wood, and multiple textures.
Our biggest challenge was re-configuring the powder room, pantry and laundry room. We were able to steal some space from the garage, so now the family has a mud room, home office, pantry, and gorgeous powder room as seen in the photos.
As part of their green initiative, Twice as Nice Interiors now offers a "Home Wellness Consultation." It's a fantastic new service created to educate people about eco friendly and sustainable brands and products that are best for maintaining a cleaner, healthier home environment. They also discuss valuable holistic habits and many other home-healthy tips that can help improve physical and mental health. Call
(631) 581-9291
to get started!
As Interior Designers, we have a lot of experience with educating our clients of the difference between non-toxic furniture built in America vs furniture sourced overseas, for example furniture from the online retailer Wayfair. In this video we discuss this topic and...