As Interior Designers, we have a lot of experience with educating our clients of the difference between non-toxic furniture built in America vs furniture sourced overseas, for example furniture from the online retailer Wayfair.
In this video we discuss this topic and how you can ensure the longevity and quality of furniture by buying domestically.
Here is a recap of the video:
The summer is winding down and people are anxious to design their homes for the holidays. Kids are going back to school and it's usually a busy time of year for us. We did receive a question from somebody that was very interesting and we wanted to share it with you and educate you on the knowledge that we have in the furniture and textile business.
A question that we received from a client was "what is the difference between the furniture that you sell, the furniture that we design and spec for our clients versus the furniture that they could buy online, such as a Wayfair product.
And we love this question because it allows us the opportunity to educate you on the furniture industry and some of the things that go on and just like how you pay attention to the food that you purchase, it's becoming more mainstream to understand that buying organic food is important to avoid pesticides and chemicals, you have to think of your furniture purchases in the same way.
A lot of the furniture is made overseas and it's made without quality control. The chemicals and glues that are used – it's just not the same quality control that we have here and in America. The furniture here that is made in America is made by craftsmen, who have been doing this for generations and generations. This is a learned art. This is not something that's made in a factory from Specs. This is real craftsmanship.
We do our best to support companies like that are family owned businesses. We love to support local artisans, craftsmen and a lot of the companies that are down in North Carolina. Even though there are bigger companies, they still have that family in the family business going. So that's really great to support companies like that.
And although American made furniture may be more costly, the investment in the long run will pay off.
It's such a better mindset to have – getting away from the quick fix, instant gratification, and disposable furniture and just getting away from that mindset and realizing that buying quality is important. If you're going to if you work with an interior designer, we put a lot of time and effort and energy into creating something beautiful and it's worth the investment to have something that you can enjoy for years to come and so that you don't have to keep rebuying things.
We've been in business for 20 years now. Twenty three years ago, I was a young person looking to design my newly built home, and I did my own research and I ended up purchasing two incredible sofas from Kravet. And at the time, yes, that price tag was steep, but I felt like it was a good investment. And I went with it and it was the best thing that I ever did.
Twenty three years later, I still have those sofas. People tell me they're the most comfortable thing they've ever sat on. I've upholstered them twice already. But the surprising thing is now that I was in the business, I tore the the sofa apart to find that the frame was all intact. Everything was perfect. The wood frame and its structure all dried and all like brand new inside.
---
I purchased a Wayfair bed to compare what the insides would be and I took it apart. To our surprise, it was a tufted bed on the outside filled with cardboard.
---
Yeah, they often will use cheap filler and you'll notice if you compare a good quality product to those products, you'll see where the design is skipped out on and obviously the quality of the fill is skipped out on in. The fabrics are really horrible compared to what we can offer you at a slightly higher price.
So let's talk fabrics. We have a full line of crypton fabrics, this ivory white sofa that we're sitting on now as well is velvet. This is a velvet sofa, but it's sealed with the crypton finish andit's fiber sealed. It's a non toxic crypton fiber seal which is family friendly, kid friendly, pet friendly, You don't have to worry about sitting on a light colored sofa and and with company. And it feels soft, it doesn't take away from the textile at all. This feels like a velvet, this feels like a chenille, and it's just a non-toxic coating. And I love the part about the bacteria.
So crypton fabric has a special patent where it repels and releases stains. It has a water repellent so stains will just roll off. But it is also bacteria proof. That's amazing because with kids and with pets, I bet you really probably don't even think about that much. The furniture is getting used and can can hold bacteria so that coating is really amazing. The coating has a bacteria barrier, which is really important for households with kids and pets. The same goes for area rugs that can be treated and fiber sealed to protect your rugs from spillage and soil.
These are just a few things that we want to educate our clients on and that are important to us. If you have any more questions about the interior design business or about furniture, reach out to us.  We'd be happy to answer them!
As part of their green initiative, Twice as Nice Interiors now offers a "Home Wellness Consultation." It's a fantastic new service created to educate people about eco friendly and sustainable brands and products that are best for maintaining a cleaner, healthier home environment. They also discuss valuable holistic habits and many other home-healthy tips that can help improve physical and mental health. Call
(631) 581-9291
to get started!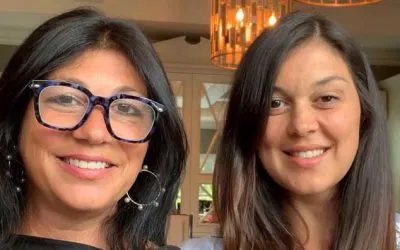 Hi, welcome to our studio. I'm Mary and this is Nancy. Together, we are sisters and designers of Twice as Nice Interiors, a leading full service interior design company in New York. Both of us have a passion for design and textiles, and we love to create beautiful...