The warmer weather is right around the corner and we wanted to share 5 tips on how to spruce up for Spring!
1. Get Rid Of What Doesn't Bring You Joy!
It's healthy to take a Marie Kondo approach with your decor! If you were given a vase for gift and it just doesn't go with your style, don't feel obligated to display it! if it doesn't bring you joy when you look at it donate it or re gift it! If you bought into a trend and it never fully made sense in your home then ditch it!.
2. Feng Shui Your Furniture Layout
Rearrange some things yourself or call in a professional for help with the art of Feng Shui! We can do a proper layout for you and suggest some different spots for furniture placement for better energy flow and wellness!
3. Swap Out Toss Pillows And Faux Fur Blankets For Lighter Weight Fabrics!
We like to make our clients a few sets of pillow covers to have options when the seasons change!
4. Literally Clean Your Fabrics & Rugs
These things need to be maintained!  Fabrics and rugs soil and crush! We make a DIY Linen Spray with essential oils for sofas and toss pillows. Have your local rug cleaner come in and service all area rugs and heavy upholstery. A clean home is a happy home.
5. Add Real Plants
Real plants add a natural element to a room that is unmatched by faux florals. Start with one. You may just surprise yourself.
What are you doing to spruce up for Spring? We'd love to hear!  Leave a comment below!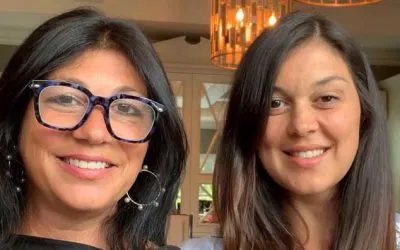 Hi, welcome to our studio. I'm Mary and this is Nancy. Together, we are sisters and designers of Twice as Nice Interiors, a leading full service interior design company in New York. Both of us have a passion for design and textiles, and we love to create beautiful...